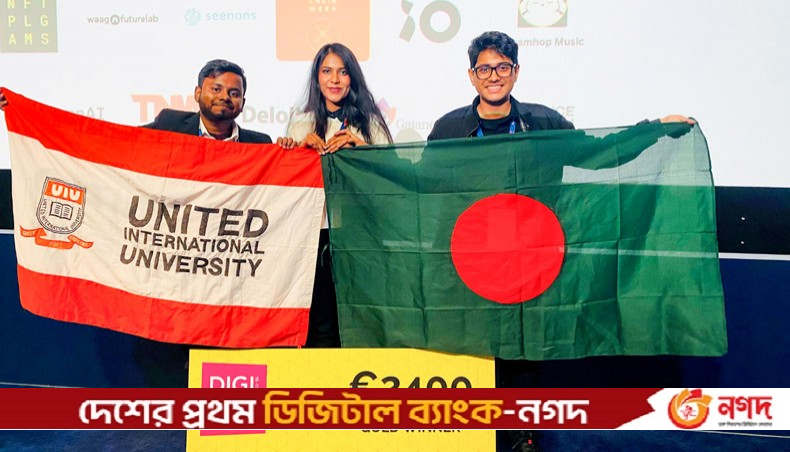 The 'Team Apocalypse' of United International University became the World Champion (Gold Winner) in International Blockchain Olympiad-2023 in the final round of competition on Friday in Amsterdam, Netherlands.
Around 45 teams participated from all over the world in the competition. Among them, team Apocalypse of UIU emerged as the champion, earning the prestigious Gold Winner for their project with the 1st Highest Overall Score, said a press release.
This is the first time a team from Bangladesh has won the world championship in the competition of IBCOL, read the release.
The UIU team will receive €2400 prize money along with a certificate for the achievement.
Team Apocalypse members are – Sadia Ahmmed, SM Jishanul Islam, Sahid Hossain Mustakim and Aadiba Tasneem Anam.
In addition to the championship award in the competition, another team of UIU 'Team Unchained' received the Award of Merit for their noteworthy contribution through the use of modern blockchain technology.
With participants from 20 countries including Bangladesh, Canada, China, Europe, Hong Kong, India, Indonesia, Italy, Kazakhstan, Macedonia, Malaysia, Mexico, Mongolia, Netherlands, Philippines, Russia, Taiwan, Ukraine, United Kingdom, and Vietnam, IBCOL-2023 brought together a diverse array of perspectives and expertise.
Earlier, the team Apocalypse of UIU won the Silver Award (student category) in the 4th Blockchain Olympiad Bangladesh-2023 competition held on July 25 in Dhaka.
Founded in 2017, IBCOL continues to provide students from around the world with a platform to address real-world challenges using cutting-edge blockchain solutions.