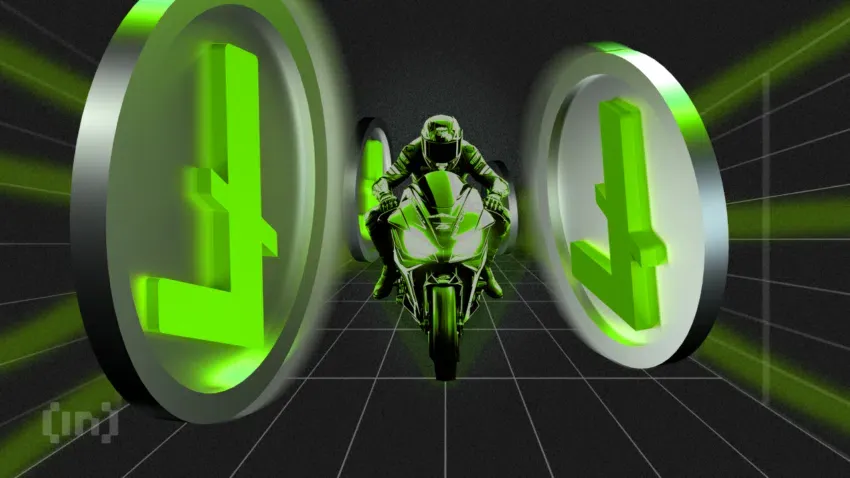 Cena Litecoin (LTC) wzrosła od dnia 19 października, przebijając długo- i krótkoterminową linię trendu spadkowego.
Pomimo wybicia, wzrost ceny utknął w martwym punkcie od 12 listopada. Czy Litecoin odzyska równowagę i przyspieszy wzrosty?
Litecoin odzyskuje utracone długoterminowe wsparcie
Tygodniowa analiza techniczna dla LTC pokazuje, że cena spadała od czerwca (czerwone kółko). W tym czasie altcoin wybił się z długoterminowej spadkowej linii trendu oporu i horyzontalnego obszaru oporu na 105 USD.
Jednak późniejszy spadek unieważnił to wybicie. Sugerował raczej, że ruch wzrostowy Litecoin był jedynie odchyleniem.
Spadek ten doprowadził w sierpniu do najniższego poziomu na 56 USD, potwierdzając obszar 60 USD jako długoterminowe wsparcie.
Od tego czasu cena Litecoin stopniowo rosła. W październiku przyspieszyła tempo wzrostu i w zeszłym tygodniu przebiła linię trendu. Litecoin jest w trakcie ponownego potwierdzania linii trendu jako wsparcia.
Wskaźnik siły względnej (RSI) służy jako wyznacznik dynamiki, umożliwiając inwestorom ocenę, czy rynek jest wykupiony lub wyprzedany. Pomaga im też w podejmowaniu decyzji o zakupie lub sprzedaży aktywów.
Byki zajmują korzystną pozycję, gdy odczyt RSI przekracza 50, a trend jest wzrostowy. Natomiast jeśli odczyt jest poniżej 50, sytuacja jest odwrotna.
Tygodniowy wskaźnik RSI dla Litecoin rośnie, ale znajduje się poniżej 50. Jest to sygnałem nieokreślonego trendu cenowego LTC.
Co o Litecoin mówią analitycy?
Traderzy kryptowalut na X są w większości optymistycznie nastawieni na przyszłość. SantoXBT uważa, że do końca roku cena osiągnie poziom 150-200 USD.
Shan Belew jest również optymistycznie nastawiony do przyszłego trendu Litecoin, ponieważ uważa, że sieć jest niedowartościowana. Stwierdził on, że:
"Litecoin pozostaje jedną z najlepszych sieci kryptowalutowych pod względem maksymalnego potencjału cenowego w porównaniu do wartości jego sieci. Jeśli następny szczyt cyklu Bitcoina przypada na grudzień 2025 r., to pozostały jeszcze 24 miesiące."
ChrisOnCrypto zgadza się z tą opinią. Uważa on, że pod względem fundamentów LTC jest jedną z najbardziej niedowartościowanych sieci. Ponadto może odnotować gwałtowny wzrost do końca stycznia.
Prognoza ceny LTC: Czy altcoin utrzyma wybicie?
Dzienne przedziały czasowe dla LTC są bycze, wspierając kontynuację długoterminowego wybicia. Jest ku temu kilka powodów:
Po pierwsze, cena Litecoin wybiła się z krótkoterminowej spadkowej linii trendu oporu i odzyskała horyzontalny obszar 70 USD. Obszar ten stanowił wcześniej opór od sierpnia.
Po drugie, dzienny wskaźnik RSI wygenerował ukrytą byczą dywergencję (kolor zielony). Dywergencja ta jest oznaką kontynuacji trendu i legitymizuje wybicie.
Jeśli LTC będzie kontynuować ruch w górę, może wzrosnąć o kolejne 30% i osiągnąć poziom oporu przy zniesieniu 0,618 Fib na poziomie 0,93 USD.
Pomimo tej byczej prognozy ceny Litecoin, zamknięcie poniżej horyzontalnego obszaru wsparcia 70 USD może spowodować spadek o 17% do najbliższego wsparcia na poziomie 60 USD.
Aby zapoznać się z najnowszą analizą rynku kryptowalut przez BeInCrypto, kliknij tutaj.
Sponsorowane
Sponsorowane
Zbudowane przez Ari10. Możliwość płatności BLIKZbudowane przez Ari10. Możliwość płatności BLIK
Wyjaśnienie
Wszystkie informacje zawarte na naszej stronie internetowej są publikowane w dobrej wierze i wyłącznie w ogólnych celach informacyjnych. Wszelkie działania podejmowane przez czytelnika w związku z informacjami znajdującymi się na naszej stronie internetowej odbywają się wyłącznie na jego własne ryzyko.