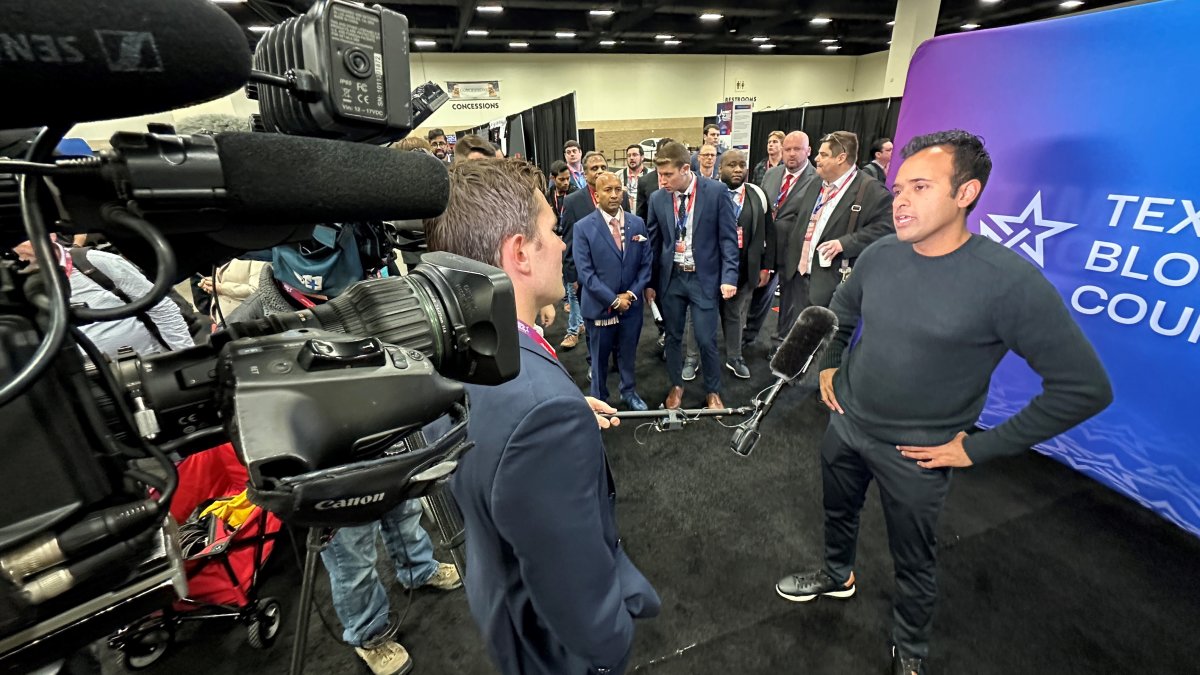 More cryptocurrency is created – or "mined" – in Texas than in any other state in the country. For the past three years, the North American Blockchain Summit has been held in Texas. This year it's in Fort Worth and the Texas Blockchain Council brought several current and former presidential candidates and United States senators to town.
One reason Texas is a leader in mining the digital currency bitcoin is the state treats it like any other heavy industry, according to Texas Blockchain Council President Lee Bratcher. Local politicians embrace the technology as well. Recently the city of Fort Worth began its own mining operation.
Blockchain leaders are trying to shed the industry's "Wild West" image and advocate for clear regulations and institutional buy-in. Many of them hope a deregulated currency system will grow if the public has greater trust in it.
With attention, comes scrutiny. Critics argue mining strains the energy grid. Some also don't like how crypto companies get millions of dollars from the state to limit power usage when ERCOT's system is vulnerable.
Bratcher told NBC 5 the new industry, however, is a boom for Texas in jobs and investment dollars – especially in overlooked, rural counties.
"These are rural jobs in counties that are losing employment and they're coming in revitalizing those counties," said Bratcher.
The blockchain industry is trying to overcome regulatory hurdles in state and federal laws that they feel get in their way. Recently, industry leaders have also been recovering from a nationwide scandal that tarnished the technology's reputation.
Sam Bankman Fried, founder of the crypto exchange FTX, was seen as an industry titan until he was convicted of a large-scale fraud scheme worth billions of dollars. He faces decades in prison.
"His fraud that he perpetrated on the American people was a disaster and we're working really hard to make sure that those kinds of bad actors will never see the light of day," said Bratcher.
Candidates and senators
Businessman and Republican presidential candidate Vivek Ramaswamy used the summit in Fort Worth to lay out his blockchain policy pitch to voters. His pitch includes limiting the power of the Securities Exchange Commission to regulate the new industry like other securities and treating the coding behind blockchain technology more like speech.
"We have a shadow government that then says if people want to opt out and hold other forms of currency, like Bitcoin, or cryptocurrencies, there's increasing regulatory burdens to doing so," Ramaswamy told NBC 5 in an interview after his keynote speech.
Former 2020 presidential candidate and co-chair of the Forward party, Andrew Yang, hopes one day the technology will allow Americans to vote in elections from their phone. Yang argues eventually the technology may be key to lowering poverty rates. In the meantime, he says the industry will help to grow the Texas economy.
"There's a lot of innovation in the state. There's a lot of growth. I personally do have friends who've moved here to Texas. I know some of you have mixed feelings about that. But it's a growth engine," said Yang, in an interview with NBC 5.
Independent presidential candidate Robert F. Kennedy Jr. joined the event Thursday as well.
The event has drawn state and national leaders of many political parties. Texas Republican Senator Ted Cruz, Wyoming Republican Senator Cynthia Lummis, Oregon Democratic Senator Ron Wyden and others are scheduled to speak and hold events.