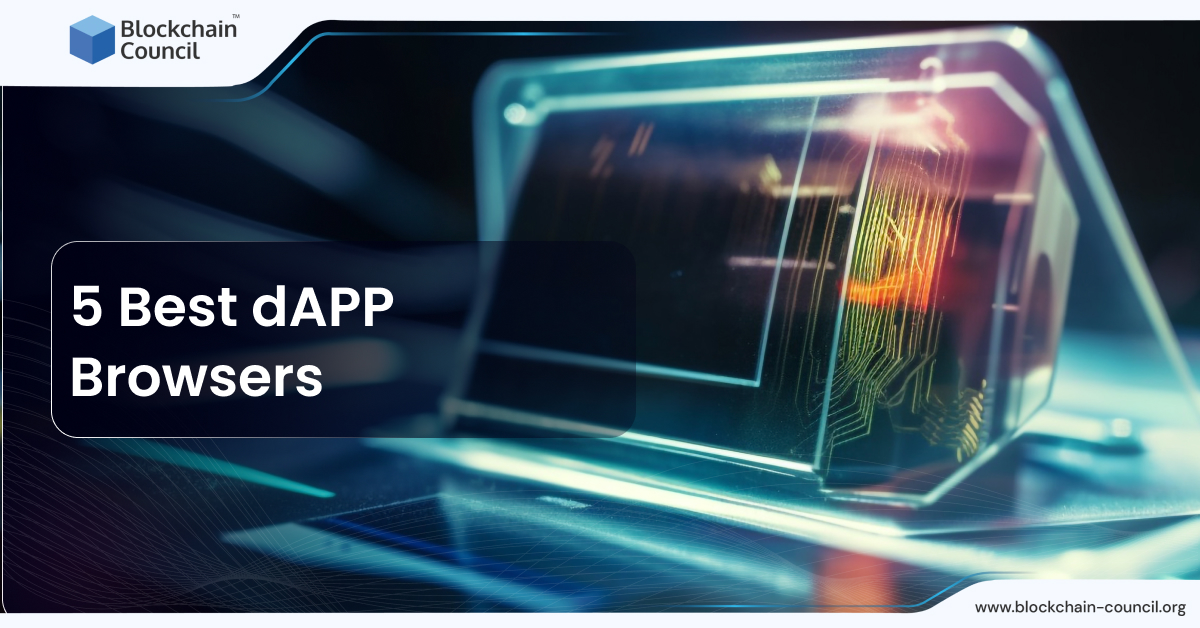 The demand for decentralized experiences has led to a surge in innovation in DApp browsers, with a 50% increase in daily unique active wallets in 2022.

DApp browsers are specialized web browsers designed for decentralized applications (DApps) on Blockchain networks, prioritizing user-friendly interfaces and integrating with various Blockchains.

The most popular DApp browsers of 2024 are MyEtherWallet (MEW), Brave, MetaMask, Opera, and OKX Wallet.

These browsers incorporate cryptocurrency wallets for managing digital assets, along with security measures like decentralized identity solutions, private key management, and encryption protocols.

MyEtherWallet (MEW) is an Ethereum-exclusive DApp browser known for its user-friendly design, compatibility across platforms, zero transaction fees, and versatile access methods.

Brave, founded by Brendan Eich, focuses on online privacy by default, blocking ads and trackers, offering a firewall, VPN integration, and a private search engine.

MetaMask, a beacon in DApp browsers, functions as a non-custodial wallet, integrates decentralized exchange services, and provides developer tools for Ethereum-based interactions.

Opera, a venerable web browser, integrates a DApp browser powered by MetaMask, offering a user-friendly interface, built-in cryptocurrency wallet, and multi-platform accessibility.

OKX Wallet, a versatile crypto wallet, supports both EVM and non-EVM networks, emphasizes decentralized control, offers diverse DApp protocols, and integrates with Scroll and ParaX.

The top 5 DApp browsers of 2024 embody innovation, functionality, user-friendly interfaces, enhanced security features, and a commitment to optimizing the decentralized experience.

With 1.15 million daily unique active wallets on average and billions of transactions, these browsers redefine the user experience in the decentralized realm, serving as vanguards of a new era.
In the dynamic realm of decentralized applications (DApps), navigating the digital landscape requires a cutting-edge DApp browser. As we step into 2024, the demand for seamless and secure decentralized experiences has fueled a surge in innovation, giving rise to a new generation of DApp browsers. The year 2022 witnessed a staggering 50% surge in daily unique active wallets (dUAW), solidifying the need for these robust platforms. These browsers are not just gateways; they are the key to unlocking the full potential of the decentralized ecosystem. In this article, we delve into the top 5 DApp browsers of 2024, backed by compelling features that underscore their prowess in reshaping the way we interact with decentralized applications.

What is a DApp Browser?
Before diving into the most popular DApp browsers and their features, let's understand what a DApp browser is!
A decentralized application (DApp) browser is a specialized web browser designed to facilitate users' interaction with decentralized applications built on Blockchain networks. Unlike traditional browsers, a DApp browser integrates seamlessly with various Blockchains, providing users with access to a wide range of decentralized applications.
These browsers prioritize user-friendly interfaces, ensuring that individuals with varying levels of technical expertise can navigate the decentralized ecosystem effortlessly. The design often mirrors that of conventional browsers, making the transition for users familiar with mainstream web browsers smoother.
Integral to the functionality of DApp browsers is the integration of cryptocurrency wallets. Users can manage their digital assets directly within the browser, conducting transactions, engaging with decentralized finance (DeFi) protocols, and participating in token swaps without the need for external wallet applications.
Security is a paramount concern in DApp browsers. They often incorporate decentralized identity solutions, allowing users to maintain control over their personal information. Additionally, robust security features, such as private key management and encryption protocols, are implemented to safeguard user data and assets.
Top 5 DApp Browsers
Now, let's have a look at the best DApp browsers of 2024:
MyEtherWallet 
MyEtherWallet (MEW) stands out as an innovative Ethereum interface, allowing users to directly engage with the Ethereum Blockchain. Unlike conventional wallets, MEW is not an exchange but a client-side tool, offering a secure and intuitive means for users to manage their Ether and ERC-20 coins and tokens. Launched in 2015, MEW has gained popularity for its user-friendly design and commitment to security. In the realm of DApp browsers, MyEtherWallet emerges as a top choice, providing a comprehensive and secure interface for Ethereum enthusiasts to explore the world of decentralized applications.
Key Features 
Ethereum Exclusive:

MEW is tailored exclusively for the Ethereum network, supporting Ether and related tokens such as

ERC-20 tokens

and Ethereum Classic tokens.

Compatibility Across Platforms:

As an open-source platform, MEW seamlessly operates on various operating systems, including Windows, Linux, and Mac, on both desktop and mobile devices.

Zero Transaction Fees:

MEW stands out by not imposing any transaction fees on its users, making it a cost-effective choice for crypto enthusiasts.

Versatility in Access:

Users can access MEW through hardware wallets like Ledger Nano S, software wallets, MEW's official mobile app for iOS and Android, and browser extensions like MEW CX and MetaMask.

Security Measures:

MEW prioritizes security by recommending users to use the 'https://' protocol to prevent phishing attacks. It stores confidential data offline, adding an extra layer of security to users' funds and personal information.

Seamless Connectivity:

MEW's in-app browser facilitates effortless connectivity with decentralized websites and applications (DApps). Users can explore the expansive world of Ethereum-based DApps directly from the MEW wallet app on their mobile devices.

User-Friendly Interface:

With an intuitive user interface, MEW's in-app browser ensures a user-friendly experience while navigating through various decentralized sites. This simplicity encourages even beginners to engage with the evolving landscape of DApps.

Automatic Wallet Connection:

MEW's in-app browser streamlines the process of connecting wallets to DApps. Users can expect automatic wallet connection, reducing the complexities associated with linking their wallets to different decentralized platforms.

Multiple Account Management:

MEW's in-app browser allows users to manage multiple accounts seamlessly. The ability to switch between accounts without the need to log out or reconnect enhances the user's flexibility, enabling them to categorize activities or dedicate separate addresses for specific purposes.

Bookmarking and History:

Users can conveniently bookmark their favorite DApps or specific pages within a site for quick access. The 'Recents' history feature provides a snapshot of previously visited DApps, simplifying the navigation process.
Brave
Brave, a revolutionary DApp browser, redefines online privacy and browsing efficiency. Founded in 2015 by Brendan Eich, the creator of JavaScript and co-founder of Mozilla, Brave stands out as a formidable player in the world of decentralized applications (DApps). Unlike conventional browsers, Brave prioritizes user privacy by default, blocking ads, trackers, and third-party data storage. The browser's architecture, based on the open-source Chromium project, enhances security while offering blazing-fast page loads.
Key Features
Ad and Tracker Blocking:

Brave's default settings block intrusive ads and trackers, safeguarding user privacy.

Private Browsing:

The browser's private mode ensures the protection of browsing history, form data, and cookies.

Firewall:

Beyond the browser, Brave's firewall secures all online activities, aligning with its commitment to user privacy.

VPN Integration:

Brave integrates a VPN, enhancing security and anonymity both on desktop and mobile.

Brave Search:

A private and independent search engine, reinforcing the browser's commitment to user data protection.

Crypto Mining:

Users can seamlessly engage with decentralized applications (DApps) within the browser.

Brave Rewards:

A unique business model that allows users to opt into ads and earn Basic Attention Tokens (BAT), fostering a decentralized advertising ecosystem.

Speed Advantage:

Faster than mainstream browsers, with up to eight times quicker page loading on mobile devices.

Founder Legacy:

Co-founded by Brendan Eich, a tech luminary renowned for his contributions to JavaScript and Mozilla (Firefox).

Cross-Platform Integration:

Available on PC, Mac, Android, and iOS, ensuring a seamless browsing experience across devices.
MetaMask
MetaMask stands as a beacon in the realm of decentralized application (DApp) browsers, facilitating seamless interactions with the Ethereum Blockchain. It's not merely a wallet; it's an entire ecosystem woven into the fabric of Web3. Here's an insightful look into what makes MetaMask a standout DApp browser among the top five.
Key Features
Comprehensive Wallet Capabilities:

MetaMask functions as a

non-custodial wallet

, offering users the ability to store, swap, and manage multiple Ethereum wallets effortlessly.

Developer Tools Empowerment:

With a suite of developer tools, including a JavaScript library and a RESTful API, MetaMask streamlines integration, making it a preferred choice for DApp developers.

Decentralized Exchange Integration (MetaMask Swaps):

MetaMask's built-in service, MetaMask Swaps, aggregates decentralized exchanges, ensuring users get the best exchange rates for Ethereum tokens.

Platform Versatility:

Accessible as both a browser extension and a mobile app, MetaMask caters to a massive user base, with over 100 million users globally.

Enhanced Security Measures:

Recognizing potential risks, MetaMask is set to introduce privacy-preserving security alerts on its mobile app, bolstering overall user security.

Active and Supportive Community:

MetaMask boasts a large and engaged community, providing a valuable resource for both developers and users, fostering a collaborative ecosystem.

Seamless Interaction with Smart Contracts:

MetaMask enables users to seamlessly interact with

smart contracts

, unlocking the full potential of decentralized applications on the Ethereum Blockchain.

Global Accessibility:

With availability on popular browsers like Chrome, Firefox, and Brave, MetaMask ensures a widespread global reach, making it a go-to choice for users across different platforms.
Opera
Opera, a venerable web browser, stands out as a premier DApp browser in the digital realm. Founded in 1995, it has evolved into a versatile platform compatible with various operating systems, including Windows, macOS, Linux, Android, and iOS. It is renowned for its longevity and adaptability.
Key Features
Built-in DApp Browser:

Opera boasts a seamlessly integrated DApp browser, empowered by the MetaMask extension. This facilitates direct interaction with Ethereum-based decentralized applications (DApps).

User-Friendly Interface:

The DApp browser offers an intuitive interface for efficient management of digital assets, smart contract interactions, and seamless DApp browsing.

Cryptocurrency Wallet:

With a built-in cryptocurrency wallet, Opera ensures secure management of digital assets within the browser, enhancing user convenience.

Crypto Wallets Feature:

The "Crypto Wallets" feature enables users to connect to different Ethereum networks and manage multiple wallets, enhancing flexibility.

Multi-Platform Accessibility:

Available on Windows, macOS, Linux, Android, and iOS, Opera provides a versatile user experience, accommodating a wide range of devices.

Opera News Integration:

Users also gain access to Opera News, an AI-based news app, adding an additional dimension to the browsing experience.

Blockchain Focus:

Opera's commitment to

Blockchain technology

is evident in the release of a Blockchain-focused Opera Crypto Browser, demonstrating its forward-looking approach.

Continuous Development:

Opera remains at the forefront of innovation, as seen in the recent major overhaul, Opera 100, introducing a new user interface and AI-related features.
OKX
OKX, a prominent Web3 technology company, has carved its niche as a versatile crypto wallet catering to diverse platforms. Positioned as one of the best DApp browsers, OKX Wallet boasts a range of features that elevate the user experience in the decentralized application landscape.
Key Features
Multi-Chain Accessibility:

OKX Wallet's standout feature lies in its support for both EVM and non-EVM networks. This versatility enables users to seamlessly engage with a myriad of DApps across different networks without the hassle of switching wallets.

Decentralized Control:

A defining aspect of OKX Wallet is the user's complete control over private keys. This decentralized control ensures that users have undisputed ownership of their crypto assets, aligning with the principles of decentralization in the Blockchain space.

DApp Diversity:

OKX Wallet opens the gateway to a vast array of DApp protocols, surpassing 1,000 in number. This includes access to multi-chain and cross-chain

decentralized exchanges

(DEX), yield farming opportunities,

NFT marketplaces

, and a host of other DApp functionalities.

Security Assurance:

Security is paramount for OKX Wallet, as evidenced by its successful passage of a security key audit conducted by Slowmist. Users can rest assured that their assets are safeguarded, with the wallet not storing critical information like seed phrases, private keys, or passwords on external servers.

Integrations with Scroll and ParaX:

OKX Wallet's integration with Scroll enhances user accessibility by providing optimal trading prices, cost-effective transaction fees, and a robust liquidity pool. Meanwhile, compatibility with ParaX transforms OKX Wallet into a comprehensive Web3 hub, featuring multi-chain account abstraction and batch transactions.

Bitcoin Testnet Integration:

Setting itself apart, OKX Wallet is among the first multi-chain wallets to integrate the Bitcoin testnet. This feature caters to developers and individuals keen on experimenting with Bitcoin-related projects without the inherent risks associated with real bitcoins.

DEX Aggregator:

At the heart of OKX Wallet's functionality is its decentralized exchange (DEX) aggregator. With connections to over 300 DEXes, approximately 15 bridges, and support for 200,000+ cryptocurrencies across more than 20 Blockchains, the DEX aggregator ensures users have an extensive array of assets and trading options.
Conclusion
In a digital landscape where evolution is the norm, the top 5 DApp browsers of 2024 stand as pillars of progress, embodying the very essence of innovation and functionality. With an impressive blend of user-friendly interfaces, enhanced security features, and a commitment to optimizing the decentralized experience, these browsers have not just adapted to the ever-changing dynamics of the Blockchain space; they have set the standard for what the future holds. As we navigate the decentralized future, these DApp browsers are not just tools. With an average of 1.15 million daily unique active wallets and transactions counting in billions, these browsers redefine the user experience in the decentralized realm.  They are the vanguards of a new era, ushering in a revolution that empowers users and defines the very fabric of the decentralized tomorrow.