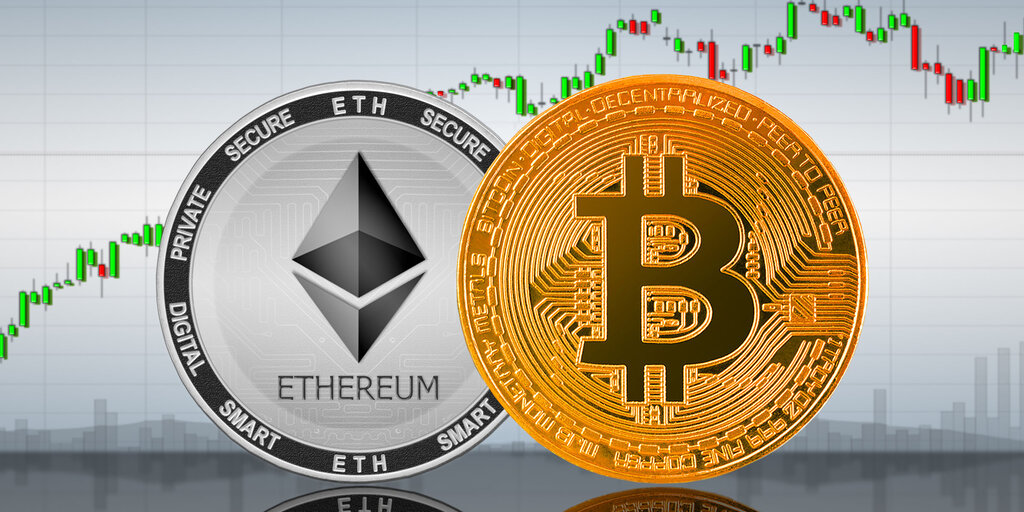 Illustration by Mitchell Preffer for Decrypt.
Bitcoin (BTC) and Ethereum (ETH) started the weekend with slightly higher prices than seven days ago. 
The world's biggest cryptocurrency currently trades for $25,815, which is an increase of about 0.6% over the week, while its closest runner-up grew 0.8% to change hands at $1,630. 
Many other leading cryptocurrencies have also posted similar small gains. There are no substantial changes to the price of any of the top thirty cryptocurrencies by market capitalization from last weekend, except Stellar (XLM). 
XLM holders saw their stash grow 10% over the week, and the token now trades for $0.124846. The rally appears to have been caused by a tweet from the Stellar team, posted on Saturday, that says, "Something cool is dropping in 10 days."
In the news…
After the slow news cycles of the last fortnight, this week saw a return to the usual slew of adoption announcements, although any indication of political breakthroughs for crypto over in Washington was pretty thin on the ground. 
On Monday, the London Stock Exchange Group announced that it is using blockchain technology to build an exchange offering tokenized versions of traditional financial assets. LSEG is currently in talks with multiple regulatory bodies about it, including the UK government and HM Treasury. 
That day, European Central Bank executive board member Fabio Panetta took aim at stablecoins issued by private companies like PayPal, which launched its own dollar-pegged PayPal USD (PYUSD) last month. 
Speaking at the European Parliament's Committee on Economic and Monetary Affairs meeting on Monday, Panetta said his main criticism of PYUSD and similar coins is that "private providers of payment services, including PayPal, have no incentive to limit the take-up of their stablecoins or the range of services they provide. Quite the opposite: their objective is to expand their customer base and gain market share."
On the other hand, Panetta thinks the proposed European central bank digital currency (CBDC), the digital euro, "would pay due attention to orderly adjustments in the financial sector while offering payment service providers a platform for innovations with pan-euro area reach," he said.
On Tuesday, top-five South Korean financial conglomerate Hana Financial Group announced a partnership between its KEB Hana Bank and crypto custodian BitGo for late 2024.
The new deal ties a major domestic financial player to the crypto industry, although KEB Hana Bank has already taken steps into blockchain when it opened a digital branch in metaverse platform The Sandbox.
Crypto-friendly payments giant Visa said on Tuesday that it has now expanded its settlement options to include USDC on the Solana blockchain. The company also announced that it was working with merchant acquirers Worldpay and Nuvei to allow them to settle using USDC instead of fiat. 
On Wednesday, The Financial Accounting Standards Board (FASB)—recognized by the SEC as the designated accounting standard setter for public companies—voted unanimously to change how companies disclose crypto holdings in order to give greater transparency to the trade. The new rules take effect in 2025. 
Two global financial regulators, the International Monetary Fund (IMF) and the G20's risk watchdog, the Financial Stability Board (FSB), on Thursday released a white paper outlining their plans for coordinated action to ensure that there is a "comprehensive policy and regulatory response for crypto-assets [as it] is necessary to address the risks of crypto-assets to macroeconomic and financial stability."
While the paper's authors acknowledge that crypto doesn't currently pose a risk to the financial system, they argue that widespread adoption would undermine the effectiveness of monetary policy. 
The paper recommends constituencies "safeguard monetary sovereignty and strengthen monetary policy frameworks, guard against excessive capital flow volatility and adopt unambiguous tax treatment of crypto-assets" to protect themselves from risks.