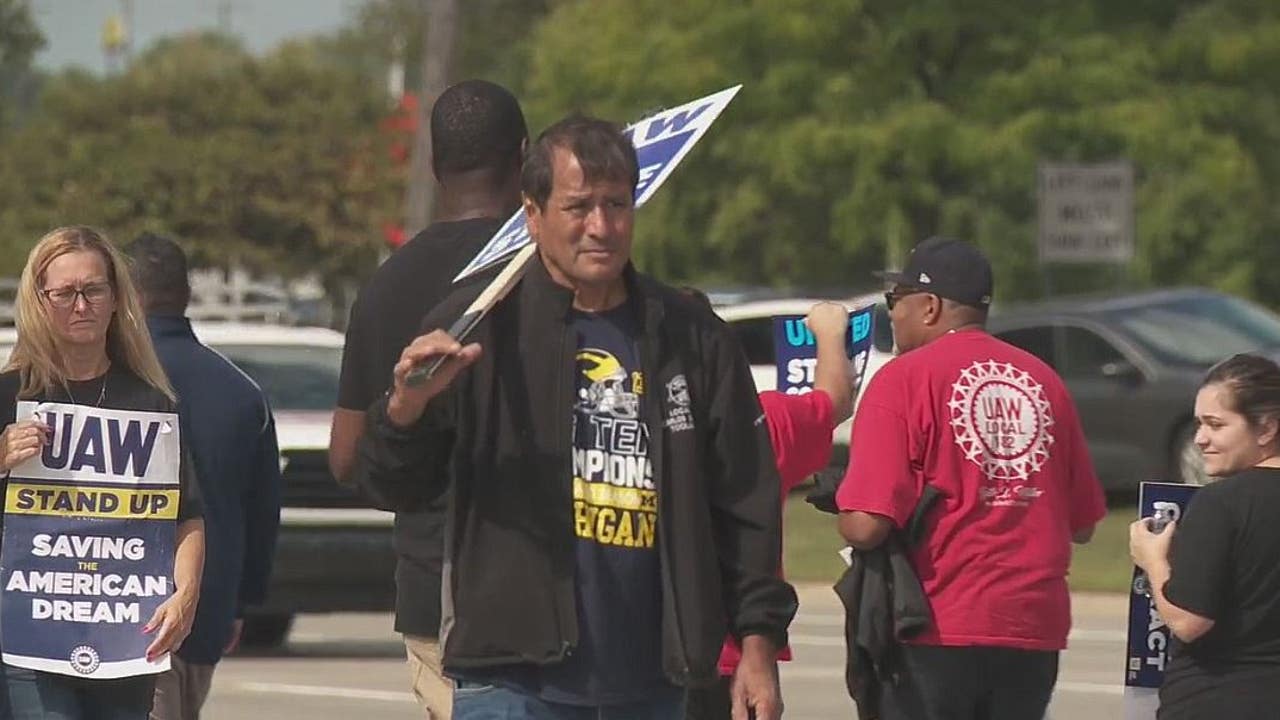 FOX 2 (WJBK) – The United Auto Workers targeted walkouts as part of its strike against each of the Big Three, is already being felt by General Motors.
As the midnight deadline expired Friday at midnight, UAW President Shawn Fain called on GM's Wentzville, Missouri Assembly plant, Ford's Michigan Assembly Plant in Wayne and Stellantis' Toledo Assembly Complex.
GM builds its SUVs at Wentzville and in a statement Friday evening said a supply shortage is being created by a lack of stampings it supplies. In particular, the impact will be felt at a plant in Kansas.
"It is unfortunate that the UAW leadership's decision to call a strike at Wentzville Assembly has already had a negative ripple effect, with GM's Fairfax Assembly plant in Kansas and its 2,000 team members expected to be idled as soon as early next week," said the statement. "This is due to a shortage of critical stampings supplied by Wentzville's stamping operations to Fairfax. We are working under an expired agreement at Fairfax. Unfortunately, there are no provisions that allow for company-provided SUB-pay in this circumstance."
The rest of the statement GM says that the impact will only grow as the strike time frame lengthens.
"We have said repeatedly that nobody wins in a strike, and that effects go well beyond our employees on the plant floor and negatively impact our customers, suppliers and the communities where we do business. What happened to our Fairfax team members is a clear and immediate demonstration of that fact.
"We will continue to bargain in good faith with the union to reach an agreement as quickly as possible for the benefit of our team members, customers, suppliers and communities across the U.S. In the meantime, our priority is the safety of our workforce."
Ford said the autoworker union's strike at its assembly plant in Wayne has forced the company to temporarily lay off 600 employees at the factory.
In a statement from the automaker, it said the strike will have "knock-on effects" for other parts of the company's supply chain, prompting it to shutter certain manufacturing processes.
"In this case, the strike at Michigan Assembly Plant's final assembly and paint departments has directly impacted the operations in other parts of the facility. Approximately 600 employees at Michigan Assembly Plant's body construction department and south sub-assembly area of integrated stamping were notified not to report to work Sept. 15.
"This is not a lockout. This layoff is a consequence of the strike at Michigan Assembly Plant's final assembly and paint departments, because the components built by these 600 employees use materials that must be e-coated for protection. E-coating is completed in the paint department, which is on strike."
RELATED: UAW strike targets factories in Michigan, Missouri, and Ohio
When the UAW called for a strike at midnight, its president called on local organizations in Missouri, Ohio, and Michigan to walk off the line, hitting all three of Detroit's automakers simultaneously.
The auto industry is a complex system that has several supply chains that feed into it. When employees stop working in one sector, it's likely to affect another.