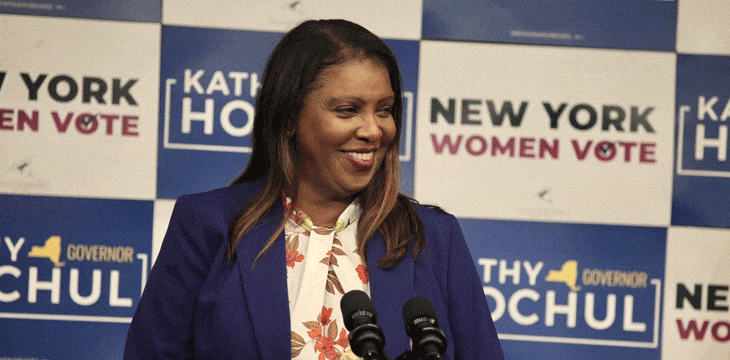 New York Attorney General Letitia James is backing a strict new state bill that promises to crack down on rampant "fraud and dysfunction" in the blockchain/digital asset industry. The bill's wording expresses exasperation at the way the industry has conducted itself to date, mentioning an overall lack of transparency and several conflicts of interest.
A draft bill, set to pass the New York State legislature despite objections from the "cryptocurrency community," seeks to amend New York's general business law, financial services law, and tax law with new specifications and definitions for digital assets. It is due to become law 30 days after passing the New York Assembly and Senate.
New York-based companies will soon need to undergo independent audits and publish financial statements, and provide more detailed material information to investors about risks and potential conflicts of interest. Digital currency exchanges will have to publish their asset-listing standards, and promoters will need to register and report any interests they have in individual blockchain projects. Exchanges may also be required to reimburse those who have lost money to fraud or other wrongdoing surrounding listed assets.
The state also wants to be tougher on companies with official home bases outside its jurisdiction, but which openly target and provide services to New York residents. This point was of particular concern at a recent Senate hearings into fintech and blockchain, where Bitcoin Association's Bryan Daugherty gave testimony on his concerns and also the benefits of BSV.
Too many loopholes so far
The absence of clear regulation at the federal level in the United States has allowed digital asset businesses (mainly exchanges and brokers) to exploit loopholes for the purposes of money laundering and fraud since Bitcoin first appeared over a decade ago.
James said: "It is time to bring law and order to the multi-billion-dollar industry. Investors should have the peace of mind that there are safeguards in place to protect them and their money. All investments are regulated to account for every penny of investors' money—cryptocurrency should be no exception."
Bitcoin was released in 2009 as a technology that allowed cheap, fast digital payments anywhere in the world. The original intent was to facilitate ease of commerce and permit new economic opportunities for all, even those historically under-served by the banking system.
While it does fulfill that promise (at least, BSV does) the technology has led to thousands of copycat blockchain projects and get-rich-quick investments, ones that regard digital assets only as items to be traded on speculative "bucket shop" exchanges to earn dollar profits. While some exchanges may have at least a superficial veneer of legitimacy and professionalism, the popularity of digital assets has also led to fraudulent investment and Ponzi schemes that deliver no real-world economic value. The perceived "anonymity" of digital asset transactions (something promoted heavily by early enthusiasts) also created dark web marketplaces trading in illegal goods, as well as encouraging money-laundering and tax evasion.
Blockchain's promise of anonymous transactions has since proved to be a myth, with criminals of years past discovering that transactions were in fact highly traceable. James Zhong of Georgia is one case: thinking he'd got away clean with a multi-billion-dollar theft from the Silk Road Marketplace in 2012, he was sentenced to a prison term last month after a blockchain-forensic investigation led to a raid on his house.
Regulation helps reputation
Reducing this sort of bad behavior not only benefits society, but also helps the legitimate blockchain industry shake off the stigma it has gained from high-profile media reports of frauds, thefts and arrests. Representatives from the digital asset/blockchain industry have publicly resisted new regulations in the name of financial freedoms and privacy, however these complaints sound hollower with each new company collapse and large-scale loss of investors' funds. Exchange founders and "professional" investment managers have become billionaires, while thousands of ordinary users lost their life savings.
New York's law does not target developers or the technology behind digital assets/blockchain, focusing more on business models these technologies have spawned. Many are completely fraudulent, with no connection to actual blockchain technology at all. Others, meanwhile, have made the most of blockchain attributes such as difficult-to-trace transactions and near-instant global transactions (as well as general investor naivete) to make large profits at ordinary users' expense.
Sam Bankman-Fried's FTX and Alameda Research have been the most prominent recent example of this. The two firms intermingled each other's assets, as well as customers' deposited funds in ways that should have raised regulators' attention and several red flags in the "traditional" financial industry. When it all came crashing down in October 2022, it was ordinary investors who took the hit.
Whether it's intentional or otherwise, those opposing the regulations eventually end up protecting and even encouraging wrongdoers. Long-standing regulations in the financial industry evolved over decades (even centuries) in an attempt to stamp out fraud and exploitation, and there's no good reason for blockchain and its digital assets to seek exemption from these rules. The safer the industry becomes for regular users, the more likely it is to become well-managed and trustworthy, promoting mainstream adoption.
Dr. Craig Wright on CoinGeek Conversations: Crypto regulation will make life easier for BSV
New to Bitcoin? Check out CoinGeek's Bitcoin for Beginners section, the ultimate resource guide to learn more about Bitcoin—as originally envisioned by Satoshi Nakamoto—and blockchain.