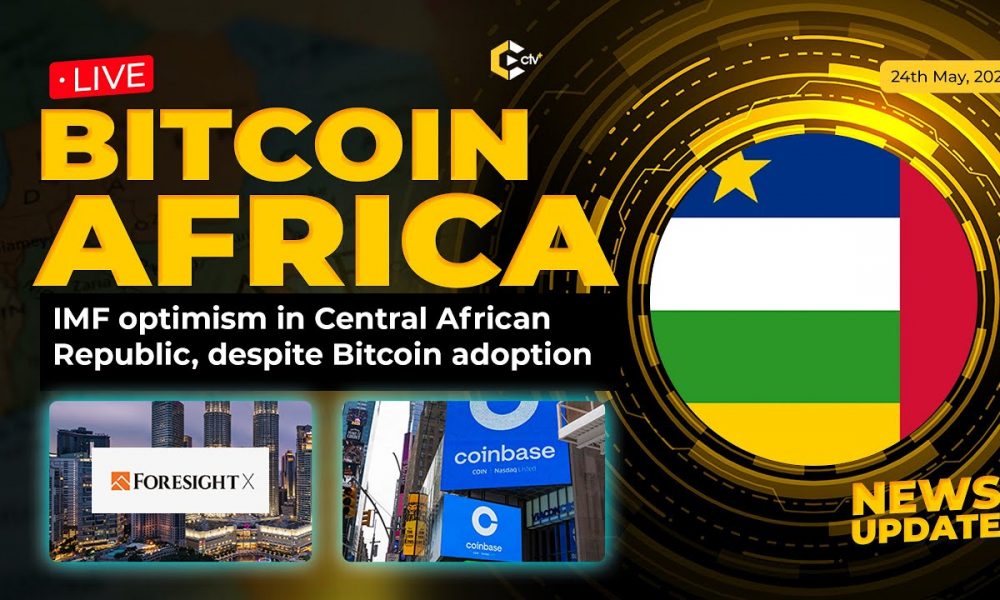 In this week's roundup on CryptoTvplus, the cryptocurrency and blockchain industry saw several noteworthy events. Despite its embrace of Bitcoin, the International Monetary Fund (IMF) expressed optimism in the Central African Republic's economic future. Also, Coinbase continued its efforts in seeking rulemaking from the United States Securities and Exchange Commission (SEC), while Foresight Ventures added an additional $10 million to its Web3 accelerator. In the AI field, Anthropic, a developer, raised an outstanding $450 million in Series C funding. Keep reading to dive deeper into each of these exciting developments. This article explores these developments.
IMF's Positive Outlook on the Central African Republic's Economy:
The adoption of Bitcoin by the Central African Republic has resulted in a positive economic outlook from the International Monetary Fund (IMF). The IMF cites the country's decision to embrace the leading cryptocurrency as a factor in its improved economic prospects. Based on a recently published report by the IMF, the Central African Republic is expected to experience a growth in real GDP of up to 2.2 percent in 2023. This growth is attributed to policy adjustments and the base effect, which has improved fuel supply. While there remains a projected inflation rate of 6.3 percent for the same year, the IMF sees such projections as sustainable. However, liquidity risks emanating from donor support shortfalls and challenges in assessing domestic and regional markets highlight the need for caution.
Foresight Ventures' Continued Support for Web 3 Projects:
Foresight Ventures is pouring more resources into its accelerator program. On May 24th, the Singapore-based venture capital firm announced an additional $10 million in funding, doubling the total amount available to $20 million. This latest phase of the program will concentrate specifically on web 3 projects, such as bitcoin, artificial intelligence, non-fungible ecosystems, liquid-staking derivatives, and ZK machine learning. The goal of Foresight Ventures is to drive innovation and support the growth of the decentralized web.
Coinbase's Efforts to Gain SEC Approval:
Cryptocurrency exchange, Coinbase, is leading the charge for digital asset regulation.
In July, Coinbase submitted a petition to the United States Securities and Exchange Commission (SEC), requesting that rules be proposed and adopted that govern the regulation of securities offered and traded through digitally native methods. As part of their proactive approach, Coinbase provided the SEC with 50 questions to consider when drafting these rules. 
By requesting regulatory clarity, Coinbase aims to develop a strong and secure digital asset market.
Anthropic Raises $450 Million in Series C Funding:
Anthropic, a company that specializes in AI safety and research, has recently raised a staggering $450 million in a series C funding round. This round was led by Spark Capital, with contributions from notable investors including Salesforce Ventures, Google, Zoom Ventures, and Sound Ventures.
Anthropic will use this funding to work towards building AI systems that prioritize helpfulness, honesty, and harmlessness. In addition to these efforts, the company will also focus on creating innovative cloud-based AI assistants. These assistants will be able to perform a wide range of tasks, from conversational to text processing.
Currently, Anthropic is working on enhancing its digital AI assistant by introducing new features, including 10,000 context windows. These windows will allow users to submit extensive materials for analysis, a move that is sure to revolutionize the way people interact with AI.
Conclusion
Digital currencies continue to challenge the way we think about economic growth and technological development. Despite initial hesitation and challenges, the Central African Republic's adoption of Bitcoin has demonstrated the immense potential of such innovations and the ways they can reshape economies on a global scale. Successful ventures such as Foresight Ventures and Coinbase have continued to push the envelope in decentralized technologies, constantly striving for advancement and regulatory compliance. Finally, with its recent series C funding, Anthropic is poised to lead the way in developing ethical AI systems that prioritize the broader concerns of society. The future of this industry is exciting, and there's no telling what lies ahead.