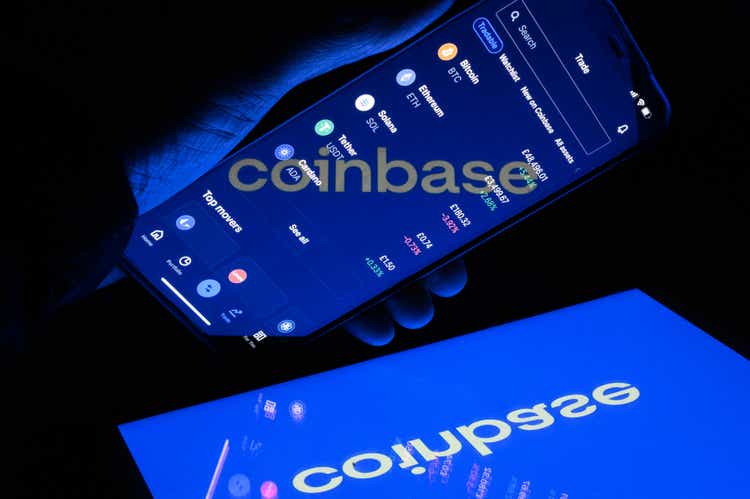 Coinbase Global (NASDAQ:COIN) stock gapped up 7.3% in extended trading on Thursday after the cryptocurrency exchange surpassed Wall Street earnings and revenue expectations for Q1 as expenses declined notably while revenue shot up during the quarter. Sentiment toward digital tokens soared in Q1 amid jitters surrounding the traditional banking sector, serving as a boon for COIN.
Still, the company guided for a sequential slump in Q2 subscription and services revenue, calling for around $300M vs. $319M Visible Alpha consensus and $362M reported for Q1, largely driven by the decline in USD Coin (USDC-USD) market cap since Q1.
Technology and development and general and administrative expenses for Q2 are expected to be $600M-$650M (including ~$190M in stock-based compensation), vs. $607M report for Q1, representing higher legal expenses and higher rent expense due to its lease termination.
It also sees sales and marketing expenses rising to $80M-$90M from the $64M reported in Q1 as a result of seasonal spending in connection with its NBA partnership.
Looking at Q1 results, GAAP EPS of -$0.34, vs. average analyst estimate of -$1.36, narrowed from -$2.46 in the prior quarter and from -$1.98 a year before.
Q1 revenue of $772.5M, also topping the $653.3M consensus, rose from $629.1M for the quarter ended Dec. 31, 2022, and dropped from $1.17B in the year-earlier period.
Transaction revenue climbed to $374.7M from $322.1M in Q4 2022 and plunged from $1.01B a year before. Subscription and services revenue of $361.7M shot up from $282.8M in Q4 2022 and from $151.9M in Q1 2022.
Total operating expenses were $896.4M fell from $1.18B in Q4 2022 and from $1.72B in Q1 2022.
Adjusted EBITDA came in at $283.7M compared with a loss of $124.1M in the previous quarter and a gain of $19.7M in Q1 of last year.
Total trading volume of $145B was unchanged from Q4 2022 and fell from $309B in the year-ago quarter.
More on Coinbase Global