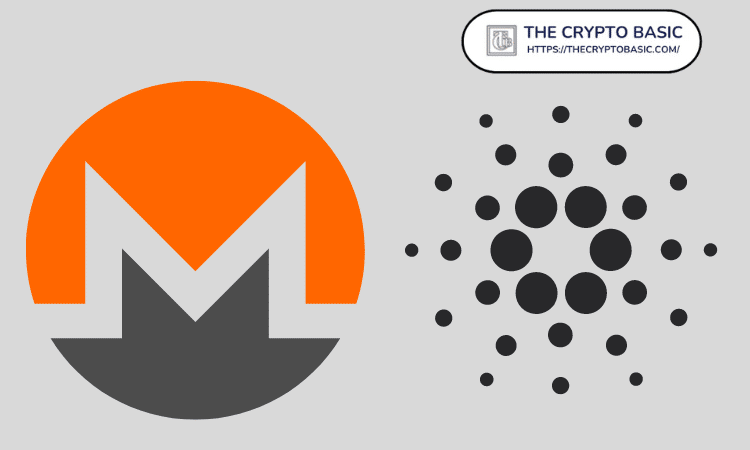 Monero Slams IOG's Data Privacy Blockchain.
Monero has slammed Input Output Global's data protection blockchain, deriding the idea that it has a backdoor for regulators, in a tweet today.
 "Use Cardano Midnight if you want to use a 'privacy' blockchain with a backdoor," Monero wrote.
 It asserts that Monero remains the preferred option for users who want privacy without "shenanigans." Monero went on to write, "Shame on you," IOG.
Use #Cardano #Midnight if you want to use a "privacy" blockchain with a backdoor.

Use #Monero if you want actual privacy without shenanigans.

Shame on you, @InputOutputHK https://t.co/F98534gRLM

— Monero (XMR) (@monero) November 19, 2022
– Advertisement –
It comes as IOG announced the launch of a "data protection-based blockchain" called Midnight, as reported by The Crypto Basic yesterday. In its announcement, IOG promised that the network would shield its users' sensitive commercial and personal data.
Notably, unlike other private networks, Midnight will have smart contracts. Consequently, it allows developers to build decentralized applications for the network, allowing them to do this using normal scripting languages. Furthermore, it hints at enterprise-level adoption, saying businesses can communicate without fear of leaks.
However, to strike a balance between providing users privacy and allowing for regulation, the network will have a back door for regulators and auditors, per a CoinDesk interview with IOG chief Charles Hoskinson released yesterday.
While Monero has derided the idea, it bears mentioning that it makes sense if this is a blockchain geared toward enterprise-level adoption. That is because, while the network should provide secure and private communication and value transfer for these entities, there still has to be a way for regulators and auditors to evaluate these companies.
Though Monero sees the yet-to-be-launched Midnight as competition, as it says, "If Monero loses to this garbage, this community deserves to lose," it is worth pointing out that the two networks are likely geared toward entirely different use cases and audiences.
Several Cardano users have slammed Monero for jumping to conclusions based on a third-party report. For example, one user noted that waiting and reading the white paper is better. Midnight is still in development, and IOG will release more information as work continues into 2023, according to a tweet from the company yesterday.
– Advertisement –