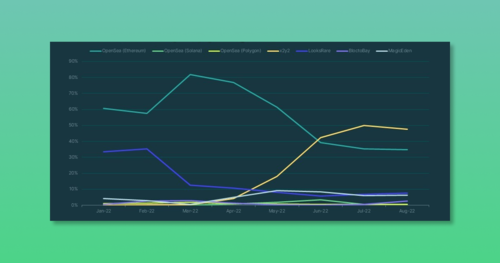 All's fair in NFT marketplaces' competition – we take a closer look at market share across the top 5 NFT marketplaces: OpenSea, x2y2, LooksRare, BloctoBay and Magic Eden.
Amidst the NFT bear, OpenSea continues to lose market share
NFTs continue to dump and see lower volumes, seeing a decline of 593% since January 2022. In tandem, NFT marketplace leader OpenSea sees its lowest monthly trading volume in August 2022, a 450% decline from its previous all-time-high in March 2022.
The rise of x2y2
x2y2 initially launched in February 2022 with a huge vampire attack on OpenSea. Despite its incentives to wash-trade, the protocol did not take off until recently, in May, when volumes picked up. x2y2 has since surpassed OpenSea on Ethereum in June and has maintained its #1 spot for Ethereum NFTs.
A few factors have propelled x2y2's growth. First, the growing popularity of NFT aggregators like Gem and Genie allow buyers to purchase NFT collections across different marketplaces in a single transaction. Added features like rarity rankings and cheaper gas costs are attractive and can turn users marketplace-agnostic. 
With a simplified user experience, price (sale fees) becomes the most critical consideration.
x2y2 is currently the cheapest on Ethereum, with just a 0.5% sale fee (the fees were lowered in July). Compare this with OpenSea at 2.5% and MagicEden and LooksRare at 2%. BloctoBay's sales fees are technically 2.5%, but they are the only platform to enforce a fixed royalty fee of 7.5%. Other platforms allow creators to dictate their royalty fees.
| NFT Marketplace | Sale Fees |
| --- | --- |
| x2y2 | 0.50% |
| Magic Eden | 2.00% |
| LooksRare | 2.00% |
| OpenSea | 2.50% |
| BloctoBay | 10% (fixed 2.5% to the platform + 7.5% to the creator) |
In August, x2y2 undertook a controversial decision to remove royalty fees for collections, giving buyers the choice of whether to pay royalties or not. This came about after Sudoswap's launch in July, a decentralized protocol that allows users to buy/sell NFTs through an Automated Market Maker (AMM) and bypass royalties.
The dark horse of NFT marketplaces: Bloctobay
Bloctobay is a marketplace built on the Flow (FLOW) blockchain. Although its trading volumes are not comparable with Ethereum's, Flow has been known as the home of NBA Topshot, which arguably sparked the NFTs bull run in 2021. Since then, it has curated a beginner-friendly image for would-be NFT adopters, becoming the main launchpad for licensed NFTs, including CNN, OVO, and MotoGP. While initially starting as a more centralized marketplace, Bloctobay has relaxed its strict constraints over time, going as far as allowing NFTs to be transferred off-chain through wallets like MetaMask. Nonetheless, it is worth noting that Magic Eden on Solana has surpassed Bloctobay in terms of trading volumes since April.
Julia Ng
Julia leads Growth Marketing & PR at CoinGecko and is passionate about onboarding more women onto Web3. That said, she is generally poor at timing the market, so she DCAs for safety.
Follow the author on Twitter @ngxinyajulia