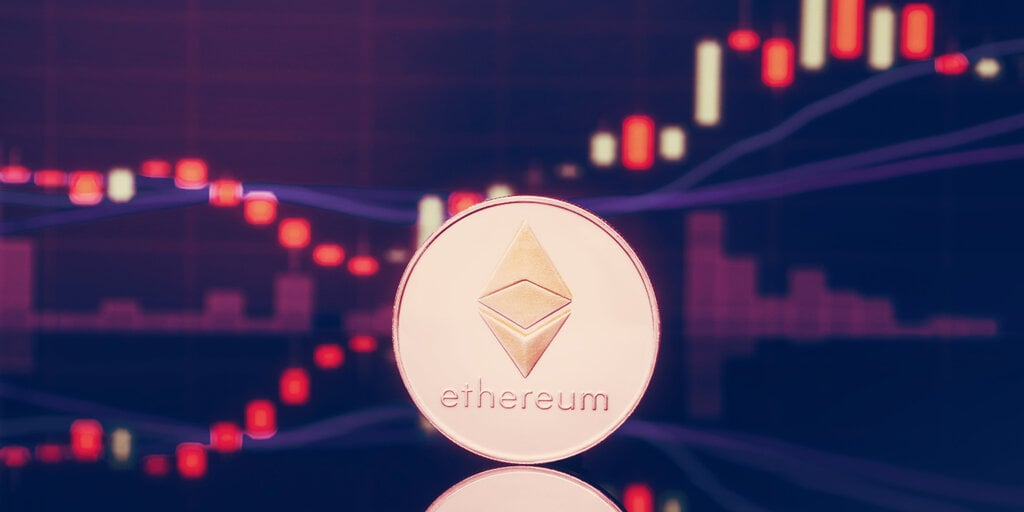 In brief
Ethereum's price is down nearly 8% today, dropping below $1,500 for the first time in more than a week.
The plunge comes following Ethereum's successful merge, in which it shifted to a more eco-friendly consensus model.
The Ethereum merge went off without a hitch from a tech perspective, but sentiment around ETH after the shift to a more environmentally-friendly consensus model might be dipping. Today, the price of ETH plummeted below the $1,500 mark for the first time in more than a week.
According to data from CoinGecko, ETH is down almost 8% over the last 24 hours to a current price of $1,485. That's a sharper drop than the rest of the crypto market right now, which CoinGecko says is down about 3% on the whole, with Bitcoin down about 2%.
Initially, the price of ETH had remained largely flat after the overnight merge, hovering around the $1,600 mark with slight ebbs and flows. However, shortly after 10AM ET this morning, the price sharply dipped from about $1,585 to its current mark. The move is not altogether unexpected.
In a report in early August, crypto analytics firm Glassnode flagged data on derivatives exchanges that indicated that the merge was shaping out to be a "sell the news" event. The hype around the merge appeared to be generating bullish sentiment around Ethereum in July, but sophisticated derivatives traders were already hedging their bets, expecting the price of ETH to drop after the event, according to Glassnode.
"Traders appear to be utilising call options to bet on the ETH price into September, whilst futures and options backwardation indicate an expectation to sell-the-news is in play," Glassnode researchers wrote in a report at the time.
The merge is Ethereum developers' name for the long-awaited shift away from the original proof-of-work consensus model, in which thousands upon thousands of users run powerful computers to secure the network and potentially earn cryptocurrency rewards.
Under the new proof-of-stake model—in which validators stake (or hold) coins in the network to process transactions—the network is estimated to use over 99% less energy than before, according to the Ethereum Foundation.
While many Ethereum proponents were in favor of the merge, some ecosystem participants were less thrilled. For example, some have forked the previous version of the network to create the new EthereumPoW (ETHW) network, which will retain mining, while other miners have instead started mining coins like Ethereum Classic (ETC) or Ravencoin (RVN).
Stay on top of crypto news, get daily updates in your inbox.