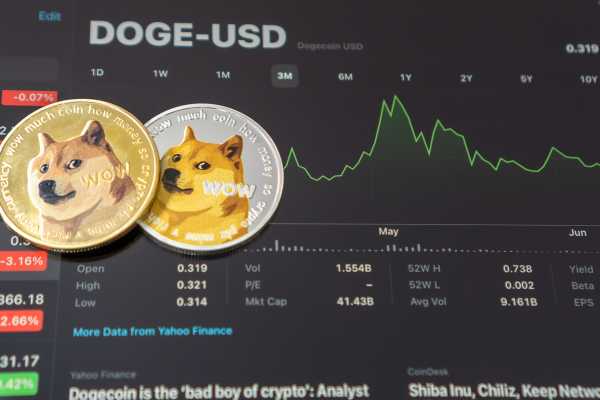 DOGE/USD rebound to recent highs on the cards? Source: FX Empire
A break above here could open the door to a run higher towards some highs from May/early June in the $0.090-$0.095 area and then a test of $0.10. But a breakdown back below the 50 and 21DMAs would deal a significant blow to short-term bullish hopes and signify that Wednesday's move higher could have been a false breakout.
Tesla Sells Bitcoin But Not Dogecoin
In a call with investors following the release of Tesla's Q2 earnings report, CEO Elon Musk confirmed that Tesla had sold down 75% of its Bitcoin holdings for $963 million. Musk said "the reason we sold a bunch of our Bitcoin holdings was that we were uncertain as to when the COVID lockdowns in China would alleviate".
"It was important for us to maximize our cash position, given the uncertainty of the COVID lockdowns in China", Musk continued, adding that Tesla is "open to increasing our Bitcoin holdings in future… So this should not be taken as some verdict on Bitcoin".
Tesla first purchased Bitcoin back in Q1 2021, buying $1.5 billion at the time.
However, Musk said "we have not sold any of our Dogecoin… we still have it". The company has been accepting Dogecoin as a form of payments for its merchandise since late 2021, with Musk having championed the coin repeatedly in recent years. SpaceX also accepts Dogecoin as a form of payment for merchandise.
Tesla merch can be bought with Doge, soon SpaceX merch too

— Elon Musk (@elonmusk) May 27, 2022
Tesla currently holds $218 million in digital assets, according to its latest earnings report. It is unclear as to how much of this is Dogecoin.
Dogecoin has been volatile in recent months after Elon Musk tendered an offer to purchase Twitter that has since fallen through. Dogecoin HODLers had hoped that Musk would promote Dogecoin as a form of payment on the platform that could have boosted its notoriety and adoption.
Solana (SOL)
Solana is the joint second worst performing top 20 cryptocurrency over the past 24 hours alongside competitor Cardano, according to CoinMarketCap. Over this time period, the native token to the Solana blockchain SOL has slumped roughly 8.0%. It is currently changing hands just above $41 per token, down about 2.0% on Thursday and now down over 13% since earlier weekly highs around $47.50.
However, the cryptocurrency's near-term technical outlook still looks good. SOL/USD has seen a decent intra-day rebound from earlier session lows under $40. The cryptocurrency bounced from support in the form of the 8 July high and a downtrend that had been capping the price action since early July prior to Monday's break higher.
SOL also continues to trade well above its 21 and 50DMAs in the $36-$38 area. Short-term speculators may see current levels as attractive to add to SOL longs and target a retest of recent highs in the upper $40s per token.