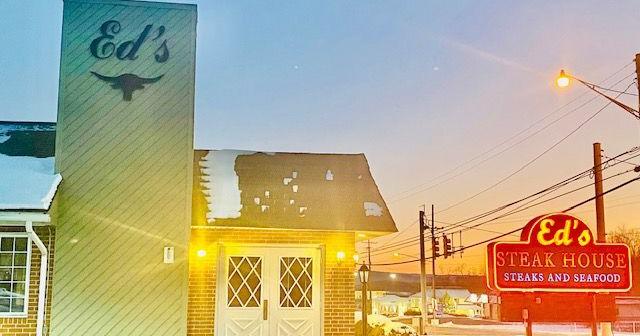 With the closing of a beloved landmark restaurant, Ed's Steakhouse's shuttered doors have caused a ripple throughout the Bedford community. On Jan. 2, after 67 years in operation, Ed's Steakhouse said goodbye, after saying hello back in 1954, according to Kim Devitt from the family business.
The restaurant greeted travelers as they exited the Pennsylvania Turnpike Interchange to Business 220. Townspeople frequented Ed's for dining out experiences and events.
Sara Letzo, with her husband Nick, are owners of 10/09 restaurant in downtown Bedford, and she reflected Friday on the closure of Ed's.
"I think this will have an impact. People went there for their special occasions and large parties. You knew you were always welcome," she said. "People will say now, 'We always went to Ed's so now where will go for Mom's birthday?' They had a unique market."
Sara said 10/09 will try to "absorb" as many of Ed's Steakhouse's employees as they are able to despite already being fairly well-staffed at the moment. "We're going to try to work a couple of them into our team."
Sara said the greatest loss of Ed's closing is that often customers would "discover more about Bedford" by stopping at the restaurant.
Although the Devitt family confirmed that Ed's Steakhouse is currently for sale, they had no comments to add to the reasons behind the closure.
Bedford residents and businesses weighed in this week on what they'd like to see go in at the Ed's location, on how current businesses are faring, and new places they'd like to see come to town.
"Two things for me," Sara said, on what she'd like to have in Bedford. She'd like to see another restaurant go in to the Ed's location. "We're far from saturated," she said about having enough restaurants in the Bedford area. Ideally, it would be places with a "variety of cuisines."
Sara also believes that opportunities for a "healthy, safe nightlife after 5 p.m." would serve Bedford well, with perhaps more live music, art events, and even a YMCA-type center.
"These would be life-changing for the Bedford community," she said, adding she believes they would contribute to the recruiting efforts of attracting and retaining new families to the area.
"And transportation options," she added to her wish list. "There's no way to get around," noting that there's limited choices and no town shuttles.
She spoke about what business has been like for 10/09 since the initial Covid-19 outbreak and shutdowns of early 2020.
"In 2021, we slightly surpassed our revenues for 2019 but our profitability has been a struggle." She cited supply chain issues, and that they are now paying staff higher wages, offering employee insurance, along with the slower seasons of restaurant seating restrictions.
When asked about the 2022 Bedford business forecast, Sara said, "Let me grab my magic eight-ball — it's anybody's game." She's hoping for more opportunities to grow as more health care options are taken advantage of, and more people feel comfortable to get out again to shop and dine.
"We'll have to adapt," she said. "Change wakes us up, and let's us be creative.
"I've said this to guests over and over — I'm not sure we would've survived the tough times if we hadn't been in Bedford. This community has rallied for us."
Bob Webb, the distribution manager for the Bedford Visitors' Bureau also spoke this week on the impact on Bedford businesses with Ed's Steakhouse closing.
"It's not helpful for them not to be here. They were always popular with the locals who grew up with them. They opened the year I was born," he said.
Despite the end of Ed's, and temporary seasonal closures for either remodeling or vacation, Webb said that the local economy "has been good. Things are always slow this season, but there's been a good turn-out. People are really ready to travel and get out."
Webb said that 2022 looks like "we're going to start getting back into 2019 levels," and that dining establishments such as Bad Boyz Bistro and the Jean Bonnet Tavern have been "powerfully busy" even as they worked through sufficient staffing issues over the last year.
"We have a pretty good selection of restaurants, specialty shops and retail places," he said, and he credits the Bedford Omni Springs Resort guests for keeping Bedford alive and well. "I had my own business for 25 years and I really saw the difference" when the resort re-opened.
A self-proclaimed "new kid on the block" is Anna Guevara, the tasting room manager for Bella Terra Vineyards on Pitt St. She said the purchase and transition from Briar Valley to Bella Terra took place in March 2020, and that she "feels good about 2021" productivity. She hopes to host more public and community events in 2022, and feels excited about the prospects of the new year.
"In Bedford, there's a lot to do but the more the merrier," she said.
Lindsay Buchanan, the Downtown Bedford, Inc. administrative assistant, said Friday that she's wishing the family of Ed's Steak House well and hopes for the best for them. She also said, "Well, I think it's sad because they were a big draw for our community," on the closing of the restaurant. "They were a great asset and I hate to see vacant properties."
Buchanan said Bedford businesses seem to be "heading back to the way we were" pre-Covid, and returning to "semi-normal" as compared to 2019. She said she believes town events will "pull more people out of the woodwork" this coming year.
"The outlook for 2022 is that we're into a new normal. It's business as usual but people are more aware and taking more precautions."
She'd like to see new businesses come to to Bedford like more "kid-friendly places, and maybe an athletic shoe store — more kids' stuff to entice our youth and their parents."
Buchanan hopes a new restaurant will go into the Ed's Steakhouse location, "a new restaurant would be amazing," she said, but also likes the idea of an indoor sports complex.
She said that despite the tough times the economy has seen, a few new places have opened such as the Countdown to Christmas store on Richard St. There are also ongoing talks with Just Jak's Pet Store to open a location in Bedford, according to Buchanan.
Jamie Pepple, along with her husband, Andrew, are the owners of Thirteen Pines Trading Company in Bedford on State Route 30. They are an antique co-op with more than 30 dealers offering their wares.
The Pepples purchased the previous Second Journeys business from Branden Davis in July 2020, but were familiar with the commerce levels since they were dealers there before taking over the company.
Jamie said Davis has set some creative steps in motion during the toughest times of the Covid-era, like acquiring a food license to carry snacks so they could be considered an "essential business" and remain open when retail lockdowns were in place.
"Things are going very well for us but the best way to describe this is how unpredictable and uncertain it all is," Jamie said, and that their sales don't seem to trend with the Covid numbers.
"There are months that are fantastic and others where it was not what we expected." She said business is better now than in the beginning because "we've learned more of what to expect, and are using social media to reach even local folks." According to Jamie, "it's a new landscape" and they are trying to stay as creative as possible in their approaches.
She said the Bedford community has been supportive and that in turn, they try to "shop close to home" too to support other local businesses.
"In 2022, I hope to keep thriving despite the challenges and the unforeseen circumstances," she said. "There's a new dynamic, and we're in new territory. We'll be open to new ways."
————
For more information, contact Tyna Walker-Lay at tynawalkerlay@gmail.com.