How can I sacrifice?
Open
PulseX.info
and follow the instructions.
What you can sacrifice for
By sacrificing your crypto you do NOT buy PLSX. You can give your crypto away, sacrifice it as a political statement. Once you have done that you do not own it anymore. Never expect profit from the work of others. Whoever owns your crypto after you sacrificed it does not work for you.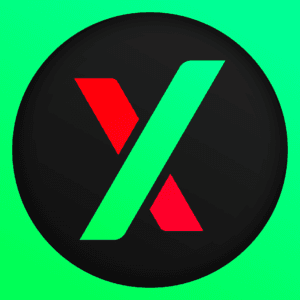 So… how do I get my PLSX?
You'll get credited free PLSX without any value based on if you have sacrificed on PulseX.info. PulseChain credited a similar Sacrifice Phase some months ago to distribute it's native token PLS.
Can I also donate to SENS to sacrifice?
No.
Which coins are supported?
The official list of supported coins is available on PulseX.info after the start of the Sacrifice Phase.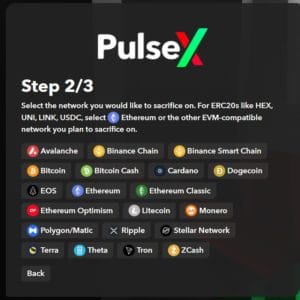 How does the bonding curve / Sacrifice Rate work?
Until January 10th 2022 you get 10,000 Sacrifice Points per USD sacrificed. The USD value is calculated near the time of sacrifice. On January 10th 0:00 UTC the Sacrifice Rate increases by 5% to $1.05 per 10,000 Sacrifice Points. The Rate increases by 5% every 24h at midnight UTC. On February 25th the Rate will be $9.91 / 10,000 Points.
Volume Bonus Same as with the PulseChain Sacrifice
Just like with the PulseChain Sacrifice the PulseX sacrificers will get a Volume Bonus Multiplier of up to 2.5x. Everyone's Sacrifice is publicly viewable during the period by checking the public balances of the Sacrifice addresses list on each chain. This way you might know when you want to sacrifice some more to move up in the rankings.How the Volume Bonus works
Imagine that each Sacrifice Point grows legs, puts on a shirt with his Sacrificer's address on it and lines up in a big line out front of an auditorium.The largest Sacrificer's points line up first. Then the 2nd largest. They file in and fill up the rows from the front to the back. Now an attendant comes in, and starts handing out bonus cards. He goes down the rows, in the same order they entered, and hands everyone a card. When he's done they see that the first card handed out is a 2.5x. Every card he handed out after was worth ever so slightly less till he got to the very back, where the last card was just barely more than 1x. The difference between each card and the next is always the same.Now all the points stand up, and head to the changing room in the same order they entered the auditorium. The first point enters and out comes 2.5 points, all wearing the same Sacrificer's address on their shirt. What does a half point look like you say? Fun sized is the answer. This continues until every Sacrificer's points have all gotten the bonus they deserve. In math speak, it's a linear bonding curve from 1x to 2.5x.The top guy's coins took up the most space and in the best location. The next guys points took up the 2nd most space and in the 2nd best location. And so forth. If someone adds to their Sacrifice, overtaking you before the end, your Sacrifice Points get pushed further down the bonus ranking.The last 5 days
February 21th – 25th will have the worst rate and won't get a variable Volume Bonus. Instead every Sacrifice on the last 5 days will get a flat 1.75x Bonus.
Disclaimer You are sacrificing to prove how strongly you believe in the right of human assembly. You must have no expectation of profit from the work of others. The set of people who have sacrificed to show their commitment to this political statement makes a great set of people to airdrop free things to. These Sacrifice Points are not meant to have any monetary value. Remember, you're not buying anything, the world is just noticing you are amongst a group of people that sacrificed to make a political statement. Some countries tax their citizens when they receive things of value. PLSX is designed to start with no value, which is ideal. Consult your own legal and financial professionals, as nothing written here should be considered professional advice. The only thing we know of set to be airdropped for free to this political group so far is PulseX (PLSX.) If we hear about other cool things, we'll let you know.
For more info go to: pulsex.com/faq/